Assistive Tech Programme
Advancing digital inclusion of persons with disabilities
Our mission is to drive greater access and use of mobile technologies for persons with disabilities in emerging markets and maximise opportunities for social and economic inclusion.
Today, over one billion people need at least one form of assistive technology (AT), but around 90% of them do not have adequate access to the AT they require. This number is expected to double by 2050. The lack of access to AT limits the capacity for people to live healthy, productive, independent and dignified lives; and to access healthcare, education, the labour market and civic life.
The restricted access to education and employment means that people with disabilities and households with disabled members remain economically disadvantaged and less able to participate in their communities. Research shows that in many countries, a disability and development gap is growing; unless people with disabilities are routinely included in development efforts, their socioeconomic status often remains static while the status of their non-disabled peers surges ahead.
As more services become 'digital by default', there is an increased risk that persons with disabilities may be left behind if technology products and services are not made accessible and affordable to all. The GSMA Assistive Tech programme works with the mobile industry and key stakeholders to address the digital inclusion gap of persons with disabilities, and identify innovation opportunities for making mobile technologies enablers of ATs.
GSMA Assistive Tech aims to drive greater digital inclusion for persons with disabilities through the following activities:
Research and insights
Innovation funding
Partnerships development
Advocacy, knowledge sharing and advisory to mobile operators
Access our resources Access our blog
Latest Publications
Document
Wednesday 10 May 2023 | Assistive Tech | Connected Society | Digital inclusion for persons with disability | English | India | Innovation Fund | Kenya | Pakistan | Report | Research | South Asia | Sub-Saharan Africa |
This report shares insights from the GSMA Innovation Fund for Assistive Tech, highlighting important lessons for AT start-ups and other stakeholders about how digital innovations can influence how persons with disabilities use mobile internet.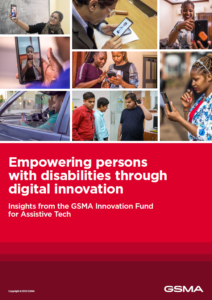 This initiative is currently funded by the UK Foreign, Commonwealth & Development Office (FCDO), and supported by the GSMA and its members.