We would like to thank Judith Mulwa and Zach White for their contribution to this blog.
In March 2023, ATEC signed a long-term multi-country agreement with ENGIE's business entity 'Global Energy Management & Sales' (GEMS) for the purchase of up to 11.5 million tons of digitised carbon credits. This partnership is unique given that it is the first deal to be signed under Gold Standard's new 'metered methodology', and will use digital measurement, reporting and verification (MRV) data. ATEC, which is one of our portfolio companies from the recent GSMA Innovation Fund on Digital Urban Services, can now trade carbon credits from Bangladesh and Cambodia, through their IoT eCook devices. By digitally tracking and verifying usage through IoT devices, ATEC helps address over-crediting risks within the sector, supporting the scaling of high-integrity credits within the voluntary carbon markets. The earnings from the carbon credits can be partially shared with the user or subsidise the instalment costs of their eCook stove.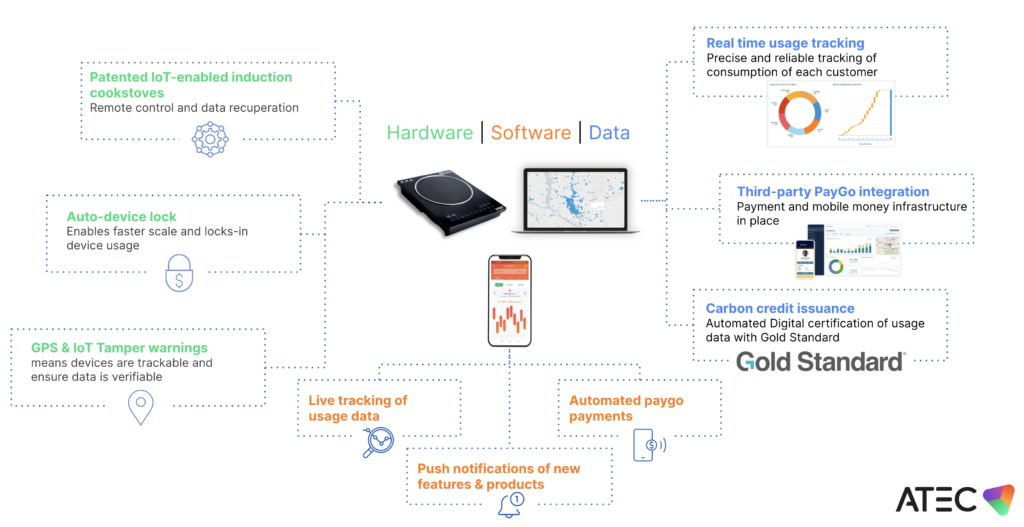 In announcing the deal, ATEC CEO Ben Jeffreys said:
Digital verification of carbon credits through device data is the only long-term solution for building trust in voluntary carbon markets – as a sector we must ensure a ton is a ton. This partnership with ENGIE heralds the next phase of verifiability and trust in carbon credit markets

Ben Jeffreys, ATEC CEO
The modern cooking opportunity
Globally, around four billion people lack access to modern cooking solutions. Instead, they rely on solid biomass or dirty fuels such as kerosene for energy. These fuels emit harmful particles, which have adverse effects on the environment and health, particularly for women and children. An estimated four million people die every year from illnesses associated with cooking with these fuels. In Bangladesh, 65% of households still use biomass for cooking. For households, earning less than $10/day, 1.5 days per month are spent on collecting wood, while three hours per day are spent on household chores due to inefficient cooking. Meanwhile, in Cambodia, only 37% of households have access to clean fuels for cooking, with majority resulting to using charcoal and wood, hence depleting the country's forest cover.
ATEC provides sustainable, affordable, and accessible modern stoves for low-income populations. They offer the stoves on a pay-as-you-go (PAYG) basis, allowing low-income households to become owners of the stoves. Through the GSMA grant awarded in 2022, ATEC has launched an Android mobile application that has now been integrated into their eCook devices. The app allows users to track live electricity usage, access customer service support and make payments. This system has improved customers' control over usage and cost, ultimately influencing behaviour change in adopting electric cooking systems.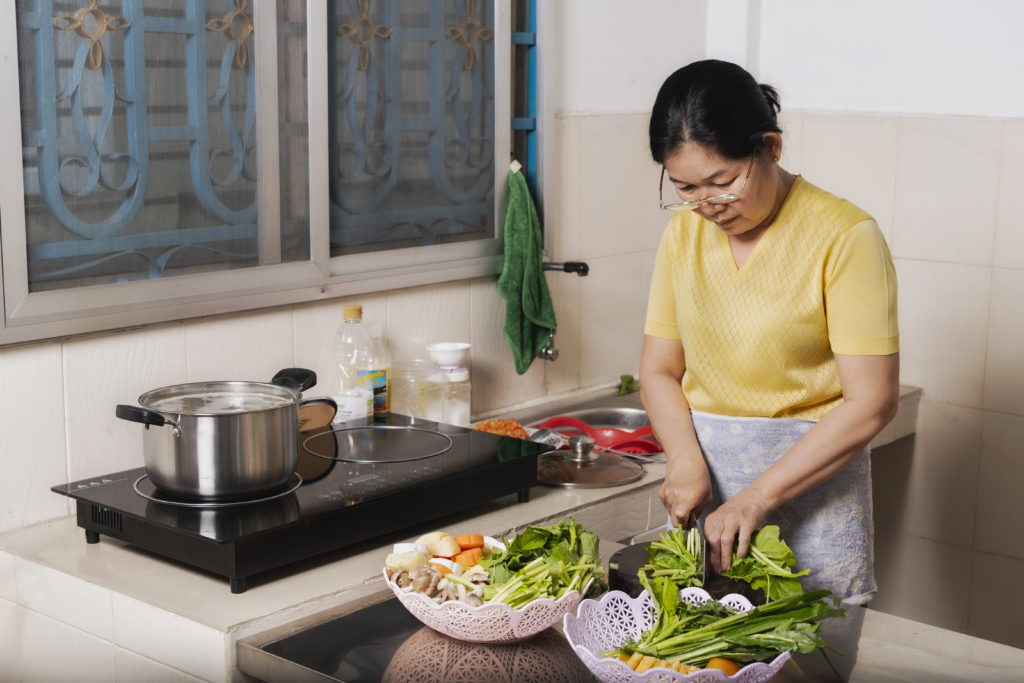 Digital innovation and innovative financing
In a recent blog, we highlighted the role of digital technologies in accelerating the adoption of clean cooking solutions, noting their multiple benefits. Combined with digital payments via mobile money, remote monitoring has enabled a new wave of consumer asset financing such as the PAYG model. Digital verification technologies have sped up the verification process as manual verification can be costly, time-consuming, and not 100% accurate, as it is dependent on subjective users' responses. Digital monitoring, reporting, and verification reduces the long-term cost of usage tracking and improves financing to the sector by enabling innovative financing from carbon credits and results-based financiers, who can now make payments faster upon completion of the projects.
An upcoming report by the GSMA ClimateTech programme, set to be published later in the month, explores how digital technologies can enable innovative climate financing. Besides accelerating the scaling of clean technologies using PAYG, projections show that carbon credits can help to subsidise the cost of clean energy alternatives which, in turn, make products more affordable for low-income households. The carbon credits generated provide additional revenue streams for companies that have successfully embraced the PAYG business model, allowing them to serve a lower-income customer base without compressing margins. IoT provides critical and precise data, while the integration of blockchain can ensure that the carbon data is not altered. This is important for transparency and traceability, which are essential for just pay-outs to households that have invested in this alternative approach.
The voluntary carbon markets
Recently, the voluntary carbon market has come in for some criticism with questions surrounding the veracity of rainforest credits bought by major global companies. In January, the Guardian published analysis suggesting that 90% of Verra's rainforest carbon credits did not represent real emission reductions. While Verra have published a robust rebuttal, this recent criticism builds on some longer standing concerns surrounding the self-regulated nature of the market. We could however be reaching a watershed moment in the voluntary markets. Currently worth about $1 billion a year, many forecast the market will be worth $30 to $50 billion by 2030. That's a huge scale-up in a short period of time, and means it could well be a do-or-die moment for credibility and integrity.
At the end of March, the Integrity Council of the Voluntary Carbon Market published their long awaited Core Carbon Principles, which will go a long way to supporting buyers identifying high-integrity carbon credits. ATEC are using the new digital metered methodology they have pioneered with the Modern Energy Clean Cooking (MECS) programme. This new methodology was recently identified by Berkeley researchers as the most accurate in the clean cooking sector. ATEC's work clearly demonstrated the role digital has in ensuring credit transparency and credibility, and the measurement of co-benefits. As the use of carbon credits in the sector scales, it's essential that it does so on the firm integrity footing. In 2017 the Clean Cooking Alliance tracked $0.5 million in carbon credit revenues in the sector, by 2020 this had risen to $11 million, accounting for just under a third of revenues in the sector.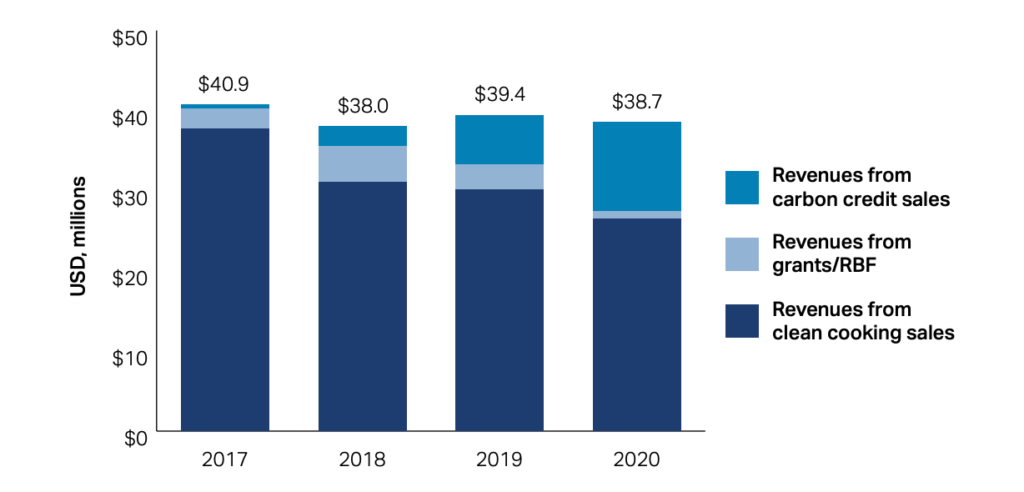 Over the last decade, the GSMA has observed how crucial partnerships are in start-ups scaling journeys. As a Digital Utilities programme, we are focussed on supporting urban resilience through innovative partnerships, publishing a suite of resources on multisectoral collaboration through our partnership hub. This partnership between ENGIE and ATEC is an exemplar of leveraging digital innovation to building impactful partnerships. The agreement will enable ATEC to scale further, reduce their costs, and avail the benefits of carbon credits to those who need them the most. We are excited to continue supporting ATEC as they expand the access to clean cooking solutions in Asia and Africa and look forward to learning more about the role of voluntary carbon markets in the clean cooking sector through this partnership.
The Digital Utilities programme is funded by the UK Foreign, Commonwealth & Development Office (FCDO), and supported by the GSMA and its members.