This World Toilet Day, the Digital Utilities programme wanted to take a moment to recognise and celebrate some of those bringing innovative solutions to the sanitation sector. This blog highlights three areas where digital technology is pushing services further, and the organisations that are doing the hard work.
The global picture on sanitation
Approximately 3.3 billion people in the world have a sewer connection, and get to enjoy the convenience of simply being able to flush a toilet and not worry about the transport and treatment of the waste. There are, however, the same number of people – 3.3. billion – who rely on onsite facilities such as latrines or septic tank systems that require emptying periodically. In urban areas in particular, those with onsite facilities are like to be those living in low-income areas. Having a facility is not enough to be considered as having access to safe and accessible sanitation, which is why WHO and UNICEF classify 3.6 billion people as not having access to safely managed services. This includes 494 million people who have no facility at all, and must resort to open defecation. 
Source: Author analysis of WHO/UNICEF data – https://washdata.org [accessed November 2022]
In this blog we examine three areas where digital solutions are supporting better services:
In improving the management of the safe disposal of waste from onsite facilities through coordinating and tracking waste;
In monitoring sewage networks and wastewater discharges, and in the emerging field of wastewater-based epidemiology; and
In improving the quality of facilities and service in public toilets.
Managing the safe disposal of waste from onsite facilities
Those relying on onsite facilities, are overwhelmingly based in Asian and African countries, where onsite facilities are what the majority of the population use. Emptying these facilities and ensuring safe management is a persistent challenge, and research from cities across the world has demonstrated that, more often than not, this waste is unsafely discharged into local water bodies and the environment. It is estimated that in 2021, 44 per cent of all wastewater produced globally was discharged without being safely treated.
The sanitation value chain
Source: Bill and Melinda Gate's Foundation
Digital technology can play a key role in coordinating waste collections and tracking waste across the value chain. Back in 2017, the GSMA awarded Kampala Capital City Authority (KCCA) a grant to upgrade their GIS tracking system, and develop and deploy an app to work as a platform to connect customers to pit latrine emptying services, and then track service delivery to ensure safe disposal. KCCA receives pit emptying requests from customers through its call centre and connects customers with the nearest pit emptiers. We are now seeing replication of similar technology and platforms in other contexts. For example, local governments in Maharashtra, India, are using platforms like SaniTab and SaniTrack to monitor waste emptying and transportation.
The sanitation sector is also likely to benefit from innovation in the solid waste management sector. Like sanitation, the solid waste management value chain requires coordinated collections and the tracking of waste to ensure safe disposal or reuse. The GSMA are currently supporting ReCircle in India, Regenize in South Africa, and Freetown Waste Transformers in Sierra Leone to develop and deploy platforms that integrate blockchain, mobile apps, and mobile payments into waste management. We expect insights from the waste management sector to be a key source of learning for onsite sanitation in the coming years, especially as we see platform models proliferate as smartphone adoption accelerates. The close links between the waste management and sanitation are evident through the evolution of partnerships in the sector. From the GSMA Innovation Fund alumni, Sanergy have recently evolved into The Sanergy Collaborative. The Collaborative brings together independent organisations working on circular economy approaches. The founding partners, Fresh Life and Regen Organics, work across both the sanitation and waste management sectors.
Monitoring sewage discharge and the emerging field of wastewater-based epidemiology
Moving from onsite to sewered connections is no guarantee that the waste will be safely treated, with leaks and poor management at treatment facilities leading to raw sewage being discharged into water bodies. Additionally, the COVID-19 pandemic also focused global attention and effort into wastewater-based epidemiology, an emerging field where sewage is tested to monitor and model disease outbreaks. In both these use cases, digital technology, particularly remote monitoring through IoT devices, is a powerful tool for scaling deployments and lowering monitoring costs. Fluid Robotics are a great example of a company doing both of these things. The company has re-purposed their sewer-scouring robot to collect samples to check for COVID and other diseases and have combined sewer mapping with IoT to improve wastewater surveillance.
We are now also seeing that governments are beginning to support these public health efforts with robust legislation. For example, the Ministry of Environment in Indonesia introduced a law in 2019 stipulating that twelve industries must implement IoT solutions to monitor the wastewater they generate. This provided an opportunity for local IoT solution providers to achieve greater scale, aided by the introduction of novel pricing models. For example, Lintasarta provides a GSM-based wastewater quality measurement solution that is available on a monthly subscription without upfront costs. In India, the Haryana State Commission piloted sensor-based sewer monitoring system. The system detects discharge and sends alert messages to workers when water reaches a critical level. These tend to work over 2G or 4G networks, given the limited availability of most low-power wide-area networks (LPWAN) alternatives. Combining these with other data, such as satellite water quality assessments, could really begin to transform our ability to monitor and manage discharges. SatSense are breaking ground in developing the technology to apply AI and use satellite data to monitor water quality from space. In Nepal, we are working with Diyalo, a tech provider working across multiple sectors, to develop IoT modules built in Nepal and deploy these to monitor water systems. Though these IoT deployments focus on water, it's our hope that this proof of concept, and the foundation of digital skills it will enable for utilities, will provide a basis for scaling these technologies in Nepal. What's also exciting about this work is that Diyalo's are collaborating with another GSMA Innovation Fund alumni, Gham Power, who develops IoT devices for the mini-grid sector, to develop and deploy these IoT devices in the water sector. Another powerful example of where innovations in one sector can drive forward progress in another.
Improving the availability of, and quality of service in, public toilets
Aside for the onsite and sewered household connections, public toilets provide a vital service for hundreds of millions of people. Despite not being as accessible as a household toilet, these services are a lifeline for those who live in dense low-income settlements where a toilet at home is simply not an option, or those that have to spend long periods of time away from the home for work (particularly the case for manual workers in cities). A lack of public toilets, anywhere, imposes particular burdens on women. Managing a period without adequate facilities can be both unsafe and distressing, and being compelled to hold your bladder for long periods significantly increases the risk of urinary tract infections.
In Dhaka, Bangladesh there are fewer than 50 useable public toilets for the some five million people who commute daily. The GSMA are currently supporting Bhumijo to digitalise the operation of their public toilets. Bhumijo are developing and trialling a suite of technologies including a touchless entry system, and integration of an Android mobile application for users to pay for an associated subscription.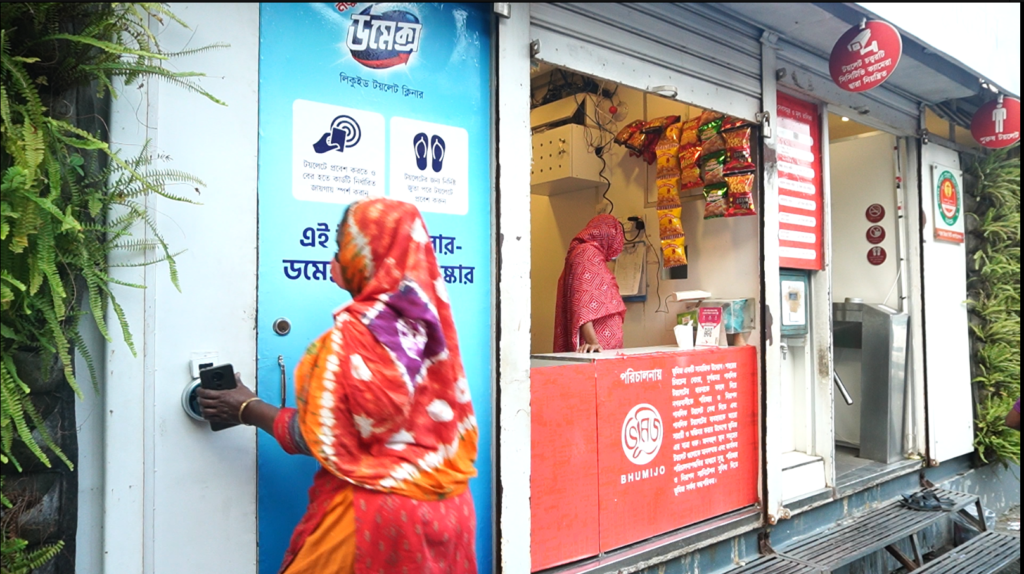 In India GARV Toilets, are providing safe sanitation services in 12 states. Their prefabricated public toilet units, manufactured in India, integrate IoT devices such as PIC micro-controllers, proximity sensors and motion sensors (to automate lighting and ventilation). The devices are connected by 4G networks, enabling real-time updates on usage of toilets and information on the hygiene behaviour of users (e.g. handwashing). The cost of the solution is approximately $900 per toilet. Similarly, Aerosan Toilets have constructed seven public toilet facilities in Kathmandu, which contain sensors to automate flushing and cleaning, reducing the required maintenance. The solution currently serves ~2,000 customers per day with people charged Rs 15 ($ 0.1) to use the facility.
GSMA Innovation Fund alumni Loowatt also recently announced a new public-private partnership with the City of Antananarivo, Madagascar to provide 27 public pay-per-use toilets, serving circa 50,000 people per month. These toilets cost only 100-200 Ariary ($0.05) per use. This partnership is part of a broader vision to provide 300 facilities in urban areas, under the governments Madagasikara Madio 2025 (Clean Madagascar 2025) campaign.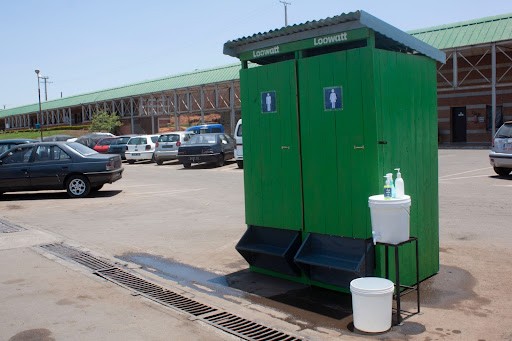 Image provided courtesy of Loowatt Madagascar 2022
Towards a thriving ecosystem
Innovation is, by definition, a process of incremental improvement: tweaking, adjusting, repurposing, and combining, all culminating in a genuinely novel product or service. In this blog we've highlighted some of the ways in which organisations from different sectors are collaborating to learn and drive forward progress. Looking beyond sanitation it's clear that changes in the broader ecosystem are going to open up new pathways to safe and sustainable services.
As a final shout out in this blog, we'd also like to acknowledge the great work being done by other orgs focused on enabling innovation in sanitation. The Toilet Board Coalition have just announced the graduation of eight organisations from their 2022 Accelerator Cohort, and their full portfolio is most certainly worth a review. Imagine H2O have an impressive history of funding some of the most experimental innovations in the sector, and though many focus more on water there is a huge cross-over in the technology to wastewater and building capacity within utilities for digital adoption. TRANSFORM, joint initiative between Unilever, the UK's Foreign, Commonwealth & Development Office (FCDO) and EY, has been working since 2015 to support market-based interventions. In particular their work has been powerful in linking together learning between sectors. At the GSMA, we're proud to regularly collaborate with these stakeholders to drive forward innovation in the sector.
In October, we hosted MWC Africa in Kigali, the continent's most influential connectivity event, bringing together delegates from over 90 countries to discuss the role of mobile in accelerating digital transformation. A key theme that featured across various sessions was how important strategic partnerships are to take impactful innovations to scale. Our programme hosted a session on, 'Learning from Leaders: Partnering for Improved Services' which brought together leaders from different sectors to discuss the drivers of successful public-private partnerships and collaboration. The session highlighted how important it is for different stakeholders to come together and address the sanitation problem. Lisa Hawkes of TRANSFORM emphasised the value of non-traditional partnerships as evidenced by their Utilities Sanitation Challenge in Kenya and Zambia.
We hope to see many more such partnerships in the ecosystem to achieve Sustainable Development Goal (SDG) 6 on clean water and sanitation for all. We're proud of our programme's history in fostering such collaborations, and our new resources including the digital utilities partnership hub and our new start-up-public sector partnership toolkit offer further practical tips and tools to start-ups navigating these complex partnerships.
The Digital Utilities programme is funded by the UK Foreign, Commonwealth & Development Office (FCDO), and supported by the GSMA and its members.