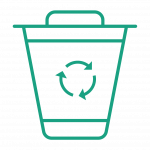 The amount of waste produced globally is increasing rapidly, especially in Africa and South and Southeast Asia where formal waste management systems are underdeveloped or non-existent. The World Bank predicts that global waste will increase to 3.4 billion tons by 2050, a third of which will be disposed in unregulated dumps or burned in the open.
Mismanaged waste poses health and safety risks for low-income populations, who are most likely to live close to dump sites and/or earn their living as informal waste workers. Waste pollution also affects the economic development of low- and middle-income countries (LMICs) by damaging livelihoods and curtailing growth in tourism.
Waste management is a complex sector, and systemic change will require various actors to collaborate. Digital technologies have a critical role to play in improving citizen engagement in recycling, driving operational efficiencies and increasing transparency in waste management.
Plastic recycling and waste management
The mismanagement of plastic waste is a global challenge that must be urgently addressed if we are to achieve the Sustainable Development Goals and meet the targets set out in the 2015 Paris Agreement. Plastic pollution continues to be driven by increased plastic packaging in low- and middle-income countries (LMICs) in Africa and Asia, where formal waste collection systems are often underdeveloped or non-existent. Read more about our work in plastic waste recycling:
Relevant resources
E-waste
While digital solutions can be seen as a solution to socio-economic challenges, digitisation of society has its own environmental implications. Better management of e-waste is a global phenomenon that needs our attention.