Digital Utilities
Supporting urban resilience in low- and middle-income countries by enabling access to essential utility services through digital solutions and innovative partnerships
Our mission is to enable access to affordable, reliable, safe and sustainable urban utility services through digital solutions and innovative partnerships. Inclusive utility services, such as energy, water, sanitation, waste management and transport support urban resilience, which allows cities in low- and middle-income countries to better withstand challenges related to population growth, climate change, and inequality.
The Digital Utilities programme enables digital solutions and partnerships between innovators, mobile operators, government providers of utility services. To achieve our objectives, the programme engages in:
De-risking and catalysing innovative urban utility services;
Research and insights;
Partnership facilitation and convening of key ecosystem stakeholders; and
Technical advice to mobile operators, municipalities, and utility service providers.
Latest Publications
Document
Wednesday 12 Oct 2022 | Climate | Digital Utilities | Energy | English | Innovation fund and grants | Partnership engagement | Private-Public | Sanitation | South Asia | Sub-Saharan Africa | Toolkit | Water |
For start-ups and SMEs, partnering with the public sector can be challenging. This new toolkit can help illustrate a pathway through the obstacles to innovative and successful public-private partnerships.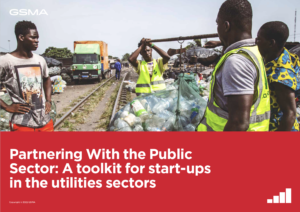 This initiative is currently funded by the UK Foreign, Commonwealth & Development Office (FCDO), and supported by the GSMA and its members.