Closing the usage gap provides a big opportunity to get billions of citizens online and benefitting from the services and solutions access to the mobile internet provides. There are three key areas to be addressed to empower citizens, digital skills and literacy, content in local language and safety and security.
Lack of digital skills and literacy is both the top barrier to mobile internet use in low- and middle-income countries among those aware of it, as well as a key issue in developed countries. Lack of relevant content and services as well as lack of content in local language represents a major issue in many countries around the world. Safety and security considerations are key to ensure trust in mobile internet services.
Mobile operators play a key role in driving digital inclusion supported by regulators, policy makers and other stakeholders. Through collaboration between the mobile industry, adjacent industries, governments and the development community, innovative solutions are being developed to help reduce the digital divide. Citizens are being empowered with digital skills to access and use the mobile internet, understand relevant content, and do so in a safe and secure environment.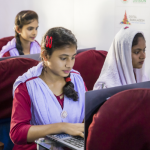 Mobile Internet for Women
Mobile services and applications are sometimes criticised for focusing on men's priorities and paying too little attention to women's needs. The perceived lack of relevance and useful content is an important barrier to mobile ownership and mobile internet use for women in low-and middle-income countries.
Dialog's interactive app Yeheli, was launched in March 2018. Yeheli, meaning female friend, is Sri Lanka's first-ever personalised and interactive web-based service dedicated to women's health and wellbeing. This app allows users to ask questions anonymously in three different languages, Sinhala, Tamil and English, and to receive bespoke answers from experts.
Resources
GSMA Blog: Making mobile internet relevant for women in Sri Lanka
In Indonesia, Ruangguru received a grant from the GSMA Ecosystem Accelerator Innovation Fund in April 2017 to launch an online marketplace for personalised education where teachers and tutors generate content, and students access content for free or request personalised advice for a fee.
Resources
GSMA Ecosystem Accelerator Innovation Fund - Ruangguru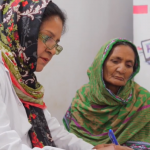 In Pakistan, Sehat Kahani connects female homebased doctors to communities where people lack access to quality health care using video consultation through intermediaries such as nurses, community health workers and midwives. Sehat Kahani received a grant from the GSMA Ecosystem Accelerator Innovation Fund in February 2018 to deploy the health technology in six clinics that support 120 community health workers. Sehat Kahani also developed a mobile and web-based telemedicine solution that gives users direct access to virtual consultations, as well as general preventative mental health information.
Resources
GSMA Ecosystem Accelerator Innovation Fund - Sehat Kahani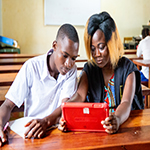 Access to affordable online education
Pass Orange Edu
In the Democratic Republic of Congo (DRC), the "Pass Orange Edu" gives students access to quality online content from the best international universities and training centres. Local partners also offer specialised training in business efficiency and entrepreneurship. The Pass includes 100 MB of mobile internet, valid for 24 hours. The costs are very affordable, 10 units at $0.10, which is ten times cheaper than a generalist pass.
The Orange Edu Pass has also been extended to primary and secondary school classes, giving access to courses corresponding to national educational programs and validated by teaching professionals in Burkina Faso, Senegal, Guinea and Mali, DRC.
Covid-19: Ensuring the continuity of the courses thanks to the Pass Orange Edu
To enable children and students to continue their studies as long as possible, the Orange Edu Pass has been made free during the coronavirus epidemic in 2020, in almost all countries where Orange is an operator.
Resources

Do you have an initiative you would like to showcase? Get in touch & suggest your initiative here.