Today, the world is more connected than ever before, with 4.3 billion people now using mobile internet.[1] Mobile broadband continues to be the primary way men and women access the internet in low- and middle-income countries (LMICs), accounting for 85% of internet connections in 2021.[2]
Thanks to continued investments in infrastructure, the number of people living in areas without mobile broadband coverage declined to 400 million at the end of 2021. This is known as the coverage gap. Mobile internet can deliver significant economic benefits and transform people's lives, providing them with access to information and services that not only assist them in their daily lives but that they would not have had access to otherwise. Mobile internet is associated with higher levels of wellbeing among men and women.[3] Studies have also shown that expanding mobile broadband coverage reduces poverty and increases household consumption. [4,5] Providing mobile broadband has a positive impact on the economy. Recent research shows that an increase of 10% in mobile broadband penetration leads to 1.5% GDP growth,[6] with even higher impacts of 2.5–2.8% GDP growth in LDCs.[7]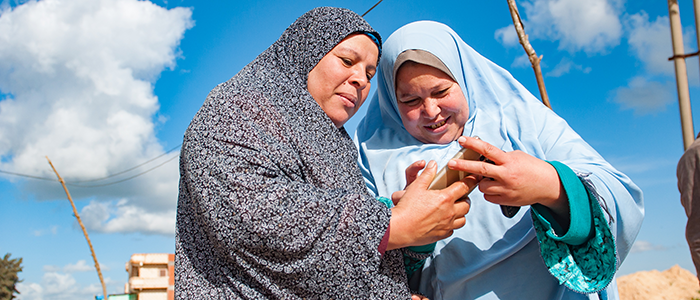 The usage gap
However, despite significant progress over the past years, 3.2 billion people live in areas already covered by mobile broadband but do not use mobile internet. We refer to this as the usage gap, which is almost eight times the size of the coverage gap.[1] There is still much work to be done to breach this digital divide. This will be critical for governments and societies to close if they wish to tackle the numerous issues that arise from those excluded from populations being able to use mobile internet, such as:
Those who are not using mobile internet are more likely to be poorer, less educated, older, rural, persons with disabilities and women. Furthering the digital divide could exacerbate existing inequalities;
There is a greater risk of a more fractured society, with certain segments of the population left behind and excluded from the digital economy; and
Parts of the population are excluded from critical areas that are a lifeline for working, learning, healthcare, education, keeping in touch and accessing essential services. [8]
Addressing the key barriers of mobile internet adoption and use
Our research shows that the main barriers to mobile internet adoption and use include:
Affordability – Inability to afford devices, data plans or other service fees.
Knowledge and digital skills – Lack of digital skills and literacy, and lack of awareness and understanding of mobile internet and its benefits.
Relevant content and services – Lack of relevant content, products and services that meet users' needs and capabilities.
Safety and security – Concerns about the negative aspects and risks of mobile and the internet, such as harassment, theft, fraud, and online security.
Access – Lack of access to networks and enablers, such as internet-enabled handsets, agents and formal IDs, or devices and services that are not accessible or easy to use.
The mobile industry, supported by GSMA's Connected Society and Connected Women programmes, continues to lead on advancing digital inclusion by further expanding mobile broadband networks and accelerating its adoption. All stakeholders can and must do more to better measure, understand and address the challenges that perpetuate the digital divide. To tackle the usage gap and improve digital inclusion, mobile operators, governments, and international organisations must continue to work together to address the key barriers to mobile internet adoption and use.
To date there have been many examples of public and private sector collaborations on digital inclusion that have had a real on the ground impact to countless lives. For example:
Connect Rwanda is a joint initiative between Rwanda's Ministry of ICT and MTN Rwanda and was launched in December 2019 to boost smartphone penetration in the country, which is currently less than 20 per cent. The campaign aims to collect 1 million smartphones through donations and redistribute them to poor families, particularly in rural areas. [9]
Working with the Governments of British Columbia and Alberta, mobile operator Telus launched 'Internet For Good', a first of its kind initiative in Canada which allowed low-income single parent families to receive high speed broadband with 350 GB of data for less than 10 dollars a month. Telus has reached 33,000 people with a view to expand the program to include other low-income segments of the population. [10]
In Sub-Saharan Africa, Orange helps young people to build skills that employers demand via a range of initiatives, such as the Orange Digital Centers (ODCs),[11] which bring together three complementary programs aimed at providing free and inclusive resources to support young people who lack the skills that employers demand.
To accelerate progress on digital inclusion, public and private partnerships and fostering an enabling regulatory and policy environment will be vital. In the words of GSMA's Director General:
"It's time to make real strides on the journey to reach the 3.2 billion people who are not yet using mobile internet despite living within the footprint of mobile broadband networks. We call on governments and organisations worldwide to work alongside the mobile industry and make digital inclusion a genuine priority. Removing barriers to mobile internet adoption will boost economic growth, improve social mobility and gender equality, and transform the lives of millions worldwide." – Mats Granyard, Director General, GSMA
For more information about collaborations with the mobile industry on digital inclusion and bridging the digital divide, please visit our digital inclusion webpage or contact us here: betterfuture@gsma.com.
In our next blog in this series, we will be doing a deeper dive into the barriers of mobile internet adoption with examples of solutions and initiatives the GSMA has been working on to connect everyone to a better future and reduce the digital divide.
Footnotes
[1] International Telecommunication Union (ITU) estimates for 2020
[2] GSMA (2022). The State of Mobile Internet Connectivity Report 2022
[3] GSMA (2022). Mobile Internet Use, Well-being and Gender: Understanding the Links; GSMA (2019). The Impact of Mobile and Internet Technology on Women's Wellbeing Around the World
[4]. World Bank, GSMA (2020). The poverty reduction effects of mobile broadband in Africa: Evidence from Nigeria
[5]. Bahia, K. et al. (2021). Mobile Broadband Internet, Poverty and Labor Outcomes in Tanzania
[6]. ITU (2020). How broadband, digitization and ICT regulation impact the global economy
[7]. ITU (2021). Economic impact of broadband in LDCs, LLDCs and SIDS
[8] 'Vodafone and The Trussell Trust report rising need for free connectivity due to the cost-of-living crisis', Vodafone, April 2022
[9] Ministry of ICT & Innovation, Government of the Republic of Rwanda. (2022). What you should know about 'Connect Rwanda' campaign
[10] GSMA Case for Change, Telus, Family connection; affordable Internet for single parents and their kids in Canada
[11] 2022 Mobile Industry Impact Report: Development Goals, Case Study 7, Orange