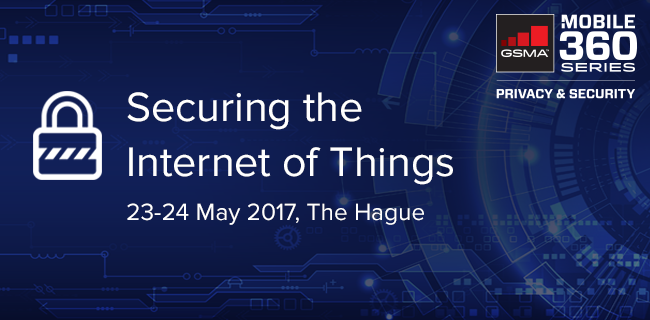 GSMA Mobile 360 Series – Privacy & Security
Navigation
Start:

May 23, 2017 @ 8:00 am

End:

May 24, 2017 @ 3:30 pm
Venue:

Hilton The Hague

Address:
Google Map

Zeestraat 35




The Hague

,

Netherlands
IoT Security Masterclass: Establishing a Flexible Framework to Address Market Diversity
Wednesday, 24 May, 11:15 – 12:00
White Room, Hilton Hotel
From connected cars and drones through smart metering and logistics tracking to smart lighting and smart waste management, the diversity of the Internet of Things is as promising as it is challenging. The IoT can only be realised if all services are secure, and customers are relying on companies to mitigate cyber security risks and protect their personal data. But too strict a security policy will slow down innovation and hinder the growth of the industry.
A flexible framework is therefore vital for the successful scaling of the IoT; only flexible IoT security processes and recommendations can address the huge diversity of IoT solutions that will come to market in the next few years.
This masterclass will explore appropriate IoT security guidelines and evaluation methods that are flexible enough to accommodate the diversity and unique challenges of the IoT, including the security and reliability of low power wide area solutions, a new set of technologies that will connect up billions of new devices.
Agenda
11:15 – 11:20 Introduction
11:20 – 11:30 Why a Flexible Security Framework is Key for IoT Security
11:30 – 11:40 The Benefits of IoT Security Assessments
11:40 – 11:50: How Secure are Low Power Wide Area Networks?
11:50 – 12:00 Q&A
Craig Heath
Director, Franklin Heath Ltd.
Craig Heath has worked in computer security for almost 30 years now, on UNIX, enterprise Java, mobile, and embedded device platforms. Today he provides independent security consultancy, as well as chairing the IoT Security Foundation's working group on Vulnerability Disclosure and volunteering at Bletchley Park, the home of the World War II codebreakers.
Craig has co-authored several computer security publications, including the book "Symbian OS Platform Security" and the Open Group's "Technical Guide to Security Design Patterns" and "Guide to Digital Rights Management", and has contributed to many published security standards and recommendations.  He also enjoys public speaking and helping those new to computer security to cut through the hype and appreciate the fundamental principles which lie behind the practice.
Ian Smith
IoT Security Lead, GSMA
Ian is a technologist working for the GSM Association which represents the interests of over 800 mobile operators worldwide, and produces industry-leading events such as Mobile World Congress in Barcelona.
Ian is currently leading the GSMA's IoT Security project which has recently published a comprehensive set of IoT Security Guidelines. Prior to this Ian led the delivery of the GSMA IoT Connection Efficiency Guidelines and the GSMA Embedded SIM Specifications.
Before joining the GSMA, Ian has held senior technical positions within network operators including Hutchison and Orange where he oversaw the design and development of the first commercial 3G handsets and SIM cards.
Ian holds a B.Eng. with joint honours in Electronic Engineering and Computer Science from Aston University, UK.

Jose Rodríguez Pérez
IoT Technology Expert, Telefonica
Jose Rodríguez Pérez is IoT technology expert at Telefónica. José co-led the creation of the IoT Security Self-Assessment, and leads the security activities at Telefónica IoT Technology area. Before joining the Internet of Things unit, he worked on mobile software development, social media, API developer programs and carrier billing initiatives at Telefónica. He has represented Telefónica in several Developer and Industry events (Campus Party México 2012, Green Hackathon at Barcelona MWC 2012, HackForGood Valencia 2015, Intel Edison Movilforum Hackathons 2015, Telefónica Todos Incluidos Hackathon 2015). José holds Master of Science in Telecommunication from Universidad de Alcalá, Spain.
Meet the Experts
Meet subject matter experts from the GSMA Internet of Things Programme at the GSMA Hub and learn more about IoT Security. Find out about unique challenges of the IoT, how the GSMA IoT Security Guidelines and Security Assessment can help overcome them, and what role security plays for low power wide area (LPWA) solutions.
This event is free to attend for everyone who has registered for GSMA Mobile 360 Series – Privacy & Security.
In cooperation with our partners The Hague Security Delta and The Municipality of The Hague, Mobile 360– Privacy & Security explores the state of network security and data privacy today and examines best practices across a variety of industries. This event includes a combination of keynote speakers, panel discussions, technology demonstrations and in-depth case studies that address the growing importance of privacy and security across the globe.
Especially the Internet of Things will be in the centre of interest, with billions of new devices and services to be connected around the world, all of which need to be secure, reliable and trusted. With the GSMA IoT Security Guidelines and the IoT Security Self-Assessment, the GSMA's Internet of Things programme provides valuable resources for anyone seeking to build secure and scalable IoT solutions.
+ iCal Import
+ Google Calendar