The 5G IoT Forum is to provide all industry and wider ecosystem stakeholders with market representation to accelerate the wide-spread adoption of 3GPP-standard 5G technologies including Mobile IoT (LPWA), LTE-M and NB-IoT technologies and evolve to Massive IoT. In the Forum we will discuss issues facing the IoT Industry and make proposals to the 5G IoT Strategy Group. Members are encouraged to participate in the Action Groups. The work of the Action groups will be disseminated to the Forum and members encouraged to adopt the work. Members can also agree to work on Concepts together for the GSMA Foundry.
The Forum #4 meeting is taking place on the 13th September 2023, 12:30 – 13:30.
The meeting is exclusive to members and can be accessed from Member Gateway
For more information contact 5GIoTForum@gsma.com.
Objectives of the 5G IoT Forum
Encourage information sharing that will lead to growth of cellular based IoT
Promote 5G IoT technologies through a pool of centralised industry resources
Enable new contributors the ability to join the 5G IoT Action groups
Adopt the work of the 5G IoT Action groups in your organisation
Create a PoC in GSMA Foundry
Criteria to Join
All GSMA members are welcome to join the Forum. Contact 5GIoTForum@gsma.com for details.
Visit GSMA Membership to understand the benefits of being the GSMA member.
5G IoT Forum Members
Activities
Resources
Document
Friday 11 Aug 2023 | LTE-M | MIoT Technology | NB-IoT | Resources |
Traditional gas meters were unable to handle more than one update a day and sustain a long battery life. Smart gas meters need continuous network availability and real-time remote access, while maintaining battery life of 10 years or more in the field.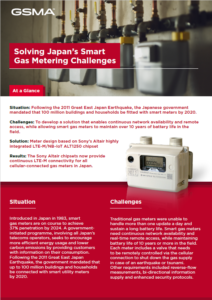 5G Transformation Hub5G mmWave
Contact 5G IoT Forum for enquiries or details to join.