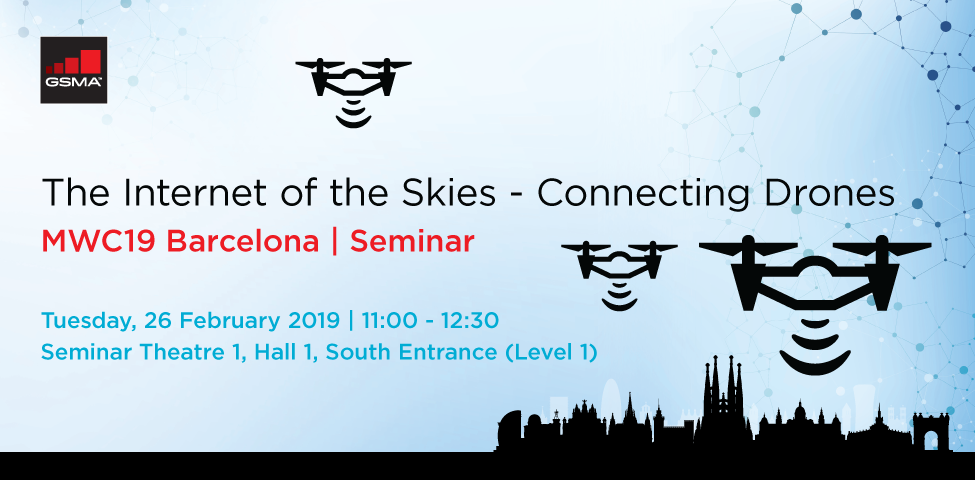 MWC19 Barcelona Seminar: The Internet of the Skies – Connecting Drones
Navigation
Start:

February 26 @ 11:00 am

End:

February 26 @ 12:30 pm
Tuesday, 26 February 2019, 11:00 – 12:30
Seminar Theatre 1, Hall 1, South Entrance (Level 1), Fira Gran Via
This event has now finished, but you can download its presentations below:
Presentation 05 – Connected Skies Forum
This GSMA seminar explored real life case studies, demonstrating the capabilities of mobile networks and how these are positively benefiting the drone industry. Hear views from a wide panel of ecosystem experts on how mobile communication can help the internet of the skies.
Key topics include:
The support of safe BVLOS (Beyond Visual Line Of Sight) and autonomous operation of unmanned aircraft (UA)
The use of mobile connectivity to enhance the efficiency and effectiveness of UA, by enabling BVLOS operation, supporting real-time data transmissions from on-board cameras and sensors
Mobile connectivity requirements for registration and identification, flight planning and approval, the transmission of meteorological information, geo-fencing, geo-caging and tracking
Speakers and Experts
Ralph Schlepp
VP, Group Technology, Deutsche Telekom
Ralph is responsible for key projects and programs in Deutsche Telekom's CTO area, has solid experience in strategy development, transformation, and innovation management, with a strong focus on ICT and high-tech.In his current role he drives DT's UAS activities, Technology Strategy and is managing DT's radio spectrum portfolio and acquisitions across Europe.Previously, Ralph served as Vice President for Foresight and Industry intelligence at Deutsche Telekom's group strategy. In this role he managed DT's core industry partnerships, ran several group-wide strategic programs and advised the Board in future industry and competition scenarios.Before that, Ralph was Vice President of Portfolio management for DT's Products and Innovation unit, where he initiated and successfully managed a group-wide product-portfolio reduction program.At the same time, he was leading DT's global scouting and customer foresighting activities.Ralph began his career as a senior consultant working onvarious large-scale projects, including the launch of Germany's biggest public WiFi network. Ralph holds a diploma in economics, he lives in Bonn, is married and has three children.
Christian Struwe
Head of Public Policy – EMEA, DJI
Christian Struwe is Head of DJI's policy work in the EMEA region. As such he is responsible for all interactions between DJI and government stakeholders in Europe, Middle East and Africa and helps drive DJI's efforts to make drones increasingly safe to use. Since joining DJI in 2016, Christian has in particular been working closely with EASA and the European Commission on shaping the future European Drone rules and creating a safe, viable and fair market for the drone industry in Europe. Christian is also DJI's representative in Global UTM Association (GUTMA), ICAO and JARUS.
With a background in a leading consultancy in the Air Traffic Management sector and a national drone association, Christian is experienced in the aviation and drone industries from both a policy and business angle. Christian is Danish and is proficient in: Danish, English, German, Dutch, Swedish and Norwegian.
Benoit Curdy
Secretary General, GUTMA
Benoit Curdy is Secretary General of GUTMA, a non-profit consortium of worldwide Unmanned Aircraft Systems Traffic Management (UTM) stakeholders. The association purpose is to foster the safe, secure and efficient integration of drones in national airspace systems. GUTMA represents over 70 companies across a wide range of activities (air navigation service providers, drone manufacturers, infrastructure providers, software providers, research institutes).
Gints Jakovels
Innovation Lead, Latvian Mobile Telephone
Gints Jakovels is the Innovation Lead at LMT and spearheads UAV commercial operations business development. His projects range from mobile-enabled UTM platform creation to practical implementation of drone technology services.
Gints is an active participant in UAV communities both locally and internationally. He is currently helping to shape the strategy for safe and secure UAV integration into common airspace as a member of the Latvian Association of Remotely Piloted Aircraft Systems (LARPAS) and a member of the Latvian Civil Aviation Agency working group. While through the GSMA Drone Interest Group, he participates in discussions about mobile operators' roles in UAV technologies and drone traffic management.
Mark Davis
VP – Next Generation Systems (NGS) Group, Intel Corporation.
Mark Davis, Ph.D. is Vice President in the Next Generation Systems (NGS) Group at Intel Corporation. Currently, he is responsible for NGS's UTM-related initiatives (UAS Traffic Management), including standards, research, and prototyping.
A 35-year veteran of the telecommunications industry, Dr. Davis was a founder of VIA Telecom, acquired by Intel in 2015. There he served as Vice President and Chief Technical Officer, responsible for all aspects of the company's research and development as well as its overall technology roadmap. VIA Telecom sold baseband, radio, and power chip sets and reference designs for cell phones, modules, and IOT devices.
Before that, Dr, Davis was at Linkabit, later acquired by Hughes Network Systems, where his work focused on embedded software for satellite communications and VSAT terminals.
Mark Davis earned his bachelor's degree in Electrical Engineering from the Massachusetts Institute of Technology and his Ph.D. in Electrical and Computer Engineering from the University of California, San Diego. He is also an active RC pilot and AMA member
Luis Simón Gómez Semeleder
Global IoT Business Manager, Telefónica
Luis Simón Gómez has more than ten years of experience in ICT, innovation and product management. IE Executive MBA, as Global new IoT Business and Innovation manager at Telefónica he is responsible for identify, grow and launch new Internet of Things solutions to be added in the global company portfolio, with focus in Europe and Latin America.
Mehran Ahmady
Senior Solution Architect, Telia
Mehran Ahmady works as a senior solution architect at Telia Company in the Swedish Product & Technology Office and the Business Enabling Technology Organization.He is responsible for the future technical enable areas and customer driven innovation programs. Mehran has almost 2 decades of experience in product development, solution design, innovation and network integration areas and many years of contributing role within several global standardization industries.
Caner Canak
Artificial Intelligence Manager, Turkcell
Caner CANAK is Artificial Intelligence Manager at Turkcell and responsible for the developing state of the art AI solution. He got his Master of Science degree in Management Information System at the CUNY Brooklyn College in New York. Caner has a deep knowledge of data analytics and AI trends with over 10 years working experience
Jonathan Evans
VP, Aviation Policy and Standards, Verizon
Jonathan Evans is VP of Global Aviation Policy and Standards at Verizon. He was the founding CEO of Skyward, the leading drone operations management platform for the enterprise, which was acquired by Verizon in February of 2017 and is now leading the industry into the exciting new era of connected aircraft and networked aerial fleet deployments across all industrial categories. Jonathan was a professional aviator for 18 years, serving as a UH60 Blackhawk pilot in the U.S. Army, as well as a network administrator during a time when the Army was establishing its first secure networks for Internet and email. As a civilian, he's continued to serve in the air as a LifeFlight medevac pilot and now as a successful entrepreneur, technologist, and standard bearer for global interoperability as founding President of the Global UTM Association. For Jonathan, drones represent the convergence of his two greatest professional passions: Information Networks and Aviation, and he is honored to be part of sculpting this new technological era.
Matt Fanelli
Director of Strategy, Skyward, a Verizon Company
Matt is the Director for Strategy at Skyward, A Verizon company. In this role, he leads the company's policy and regulatory efforts by working with the FAA on the Low Altitude Authorization and Notification Capability (LAANC) and on the Remote Identification and Tracking ARC as well as serving on numerous UAS committees. Prior to his work on the regulatory front, Matt was general counsel for Skyward and managed all commercial partnerships. He holds bar memberships in Washington and Oregon, and is an active recreational UAS pilot.
Barbara Pareglio
Technical Director – IoT, GSMA
Barbara has over 20 years of experience in the mobile industry. She has been part of the GSMA Internet of Things Programme since 2014, working on several aspects of the IoT such as the development of the Mobile IoT Technologies(LTE-M,NB-IoT), GSMA IoT Security Guidelines, GSMA Drone Interest Group and looking at a variety of emerging technologies for helping the mobile industry to create trusted solutions for the IoT. Before joining the GSMA Barbara worked in R&D in several areas of telecommunications, including Intelligent Networks, IMS, Service Enabling and M2M/IoT. She also participate in and actively contributed to several standards.The GSMA Internet of Things Programme help operators to fully realise the opportunity in the IoT, operators must deliver secure IoT networks as well as scalable value added data services for the world's industry and machines beyond connectivity. This is to be achieved by industry collaboration, appropriate regulation, optimising networks as well as developing key enablers to support the growth of IoT.
Agenda
Time

Speakers

11:00-11:05
Welcome and Introduction

 GSMA: Barbara Pareglio, Technology Director

11:05-11.55
Real life case studies: How operators are supporting the drone industry – Presentations and Q&A


• Telefonica: Luis Simón Gómez Semeleder, Global new IoT Business and Innovation Manager
• Turkcell: Caner Canak, Artificial Intelligence Manager

• Latvian Mobile Telephone: Gints Jakovels, Innovation Lead (UAS / UTM Development & Solutions) Business Management Department

• Verizon:Jonathan Evans, VP of Global Aviation Policy and Standards
• Global UTM Association – Connected Skies Event: Benoit Curdy, Secretary General (joint presentation)

11:55-12:30
Panel Discussion: The voice of the ecosystem

• Deutsche Telecom: Ralph Schepp, VP Program- & Project Management, Group Technology
• DJI: Christian Struwe, Head of Policy EMEA
• Intel: Mark Davis, Ph.D. – Vice President in the Next Generation Systems (NGS) Group
• Telia, Mehran Ahmady, Solution Architect
• Skyward, a Verizon Company: Matt Fanelli, Director of Strategy
• Moderator: Global UTM Association, Benoit Curdy, Secretary General
+ iCal Import
+ Google Calendar