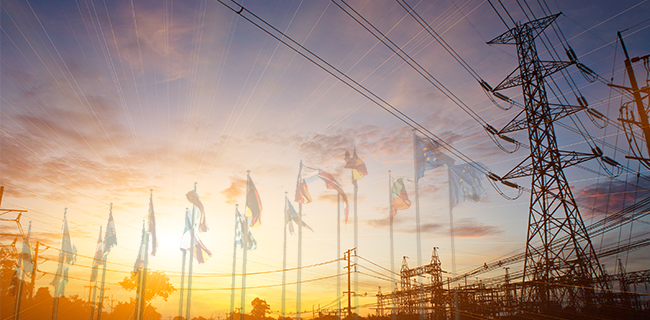 Mobile IoT to Help Utilities Meet Phenomenal Demand for Smart Capabilities
Of all the industries set to deploy IoT technology in the years ahead, those in the utilities sector have among the most to gain.  That was a key take-away from discussions at the European Utility Week conference this month, where delegates met in Amsterdam to consider the transformative impact anticipated from rollout of LPWA technologies in the utilities space.
Utilities companies are a natural partner to those offering IoT connectivity: deployment of low-cost connected devices, with long battery lives, low data requirements, and little need for maintenance, presents a sea-change in the efficiency with which utilities can be administered.  The costs incurred by current norms such as sending personnel to read energy meters – and the inaccuracies produced by generalising from these sporadic visits – can be eliminated, presenting a win-win for companies and end-users alike.  Consumers can pay only for the energy they use, demand on utilities can be more accurately anticipated, pricing can become more flexible and dynamic, and disconnections for non-payment can be made without requiring site visits.  From avoiding the need to store surplus energy to detecting fraud more effectively, IoT technology offers highly attractive improvements to the provision of utilities.
Mobile IoT is the Perfect Solution for Utility
Specifically, Mobile IoT – the deployment of LPWA in licensed spectrum – allows industries to make use of these advanced capabilities by the most secure and reliable means available in IoT connectivity. 21 commercial launches of Mobile IoT networks have now been undertaken, among 14 different operators from around the world, which are now mature and ready for testing and deployment. By partnering with mobile network operators, utilities companies can optimise interoperability, scalability and efficiency, as well as maximising their ability to upgrade as the technology develops.  Mobile IoT therefore presents the means by which utilities companies can enact IoT connectivity to make their distribution networks smart in the safest and most sustainable way possible, giving their customers and investors the confidence they need to get behind this coming transformation.
European Connected Energy Market is Worth $26 Billion by 2026
Growth opportunities in the utilities sector for operators offering Mobile IoT solutions are therefore immense.  Analyst house Machina Research has shown that the European Connected Energy market alone will, by 2026, be worth approximately $26 billion, partly addressable to operators deploying Mobile IoT (LPWA).  The European Commission recently published a paper estimating that 200 million smart electricity meters and 45 million smart gas meters will be rolled out by 2020, meaning around 72% of European customers will use smart metering for electricity, and 40% for gas.  In the UK, the government has actually mandated that all 53 million domestic and business energy meters in the country should be upgraded to smart meters by 2020.  For those intending to capitalise on this rapid and imminent uptake, the time for investment is now.
Over 60 successful Mobile IoT use cases have already been seen in utilities, including in remote monitoring of water quality, smart power grid administration and smart gas metering.  In Europe for example, Deutsche Telekom have piloted smart metering and lighting through NB-IoT across the Netherlands, while Vodafone have deployed NB-IoT smart water and gas metering in Spain.  In China, China Mobile has piloted water quality monitoring across several locations, while China Unicom has done so in remote meter-reading using NB-IoT, as has China Telecom in partnership with Huawei and Shenzhen Water using NB-IoT.  And in South America, Telefónica has partnered with Huawei and Kamstrup to test a NB-IoT telemetry solution in residential water metering, bringing accurate automated billing and leak detection to consumers in Chile.  With the working knowledge generated from these initial successes, partnerships between the mobile and utilities industries can now start to tackle the mass market in earnest.  The GSMA therefore hosted a Mobile IoT for Utilities Webinar in September, bringing together operators, vendors and prospective customers, to report on progress and explore commercial possibilities in this coming demand for smart utilities.
How Should Utility Industry Get Ready for Mobile IoT?
Telit Communications for example will from next year offer simWISE, an integrated IoT module which makes it possible to undertake remote service provisioning, and change service provider if desired without requiring physical intervention in the relevant device.  Telit's Vice-President Emmanuelle Maçon-Dauxerre explained that as the solution provides the functionality of a physical SIM card – but without the need for a dedicated chip – spontaneous management of MNO profiles can be achieved, eliminating associated costs from SIM maintenance, inventory management and shipping.  The efficiency implications of such solutions for the utilities sector – which deals as a matter of course in locations which are remote and difficult to reach physically – are considerable.
Itron offers connectivity solutions in water, gas and electricity across 75 locations globally. Itron's Jan Farslow explained that among the most important gains to be made in gas, for example, will be in improved safety.  The ability of Mobile IoT sensors to last for long periods without maintenance, and the deep penetration into buildings and underground sites offered by Mobile IoT networks, offers gas companies the ability to monitor methane levels around units, and pressure readings within them. In the event of anomalous readings being detected, connectivity can be disabled remotely, avoiding combustion or inhalation, thereby saving lives and preventing damage to properties.  While the network penetration is there, Mr Farslow suggested that there is still work to be done to maximise battery longevities in more sophisticated IoT devices, and that this should be considered a primary area of focus for the industry going forward.
Pietro Fiorentini's Marketing Manager, Gianfranco de Feo, was able to report successful trials of NB-IoT smart metering in gas from Spain, Portugal, Italy, Ireland, Lithuania and China.  Battery lives are improving, having surpassed a 10-year lifespan, with work towards the target of 15 years ongoing; a clear improvement on the lifespan of 7 years using GPRS.  Signal penetration to and from meters two storeys underground – where mobile phones are generally unable to reach – has shown a success rate of 100%, sending data up to 15 times a day without losing a single transmission.  Work continues on reaching meters a full three storeys underground, but this progress so far is undeniably impressive.
The Future of Mobile IoT and Utility
We can expect to see many more such events in the near future, as interest grows in meeting the phenomenal demand projected for smart utilities.  Sierra Wireless, currently the world's largest manufacturer of Mobile IoT modules, is fully behind utilities solutions.  Nicolas Damour, Sierra's Senior Manager for Business and Innovation Development, projected at the recent European Utility Week that additional market opportunity represents tens of millions units over the next 5 to 10 years. The conference saw a range of impressive demos from partnerships between the mobile and utility industries; Huawei's NB-IoT collaboration with Huizhong, Sanchuan, and NWM for example has yielded a system of water regulation which enables monitoring of pesticides, chlorines and overall quality while simultaneously minimising leakages.  That it does so using Mobile IoT enables it both to transmit and detect simultaneously, where conventional technologies are capable only of one or the other, while penetrating to 20db. "To put that into context, where GSM signal finishes, with NB-IoT you can get two brick walls further", explained Julien Grivolas, Head of EU Wireless Network Strategy Planning and Industry Development at Huawei. We at the GSMA anticipate further such success stories as roll-out gathers momentum, and the old norm of foraging around in cellars for meter readings becomes a relic of the past.
Back