Private networks unwrapped: find your role and own it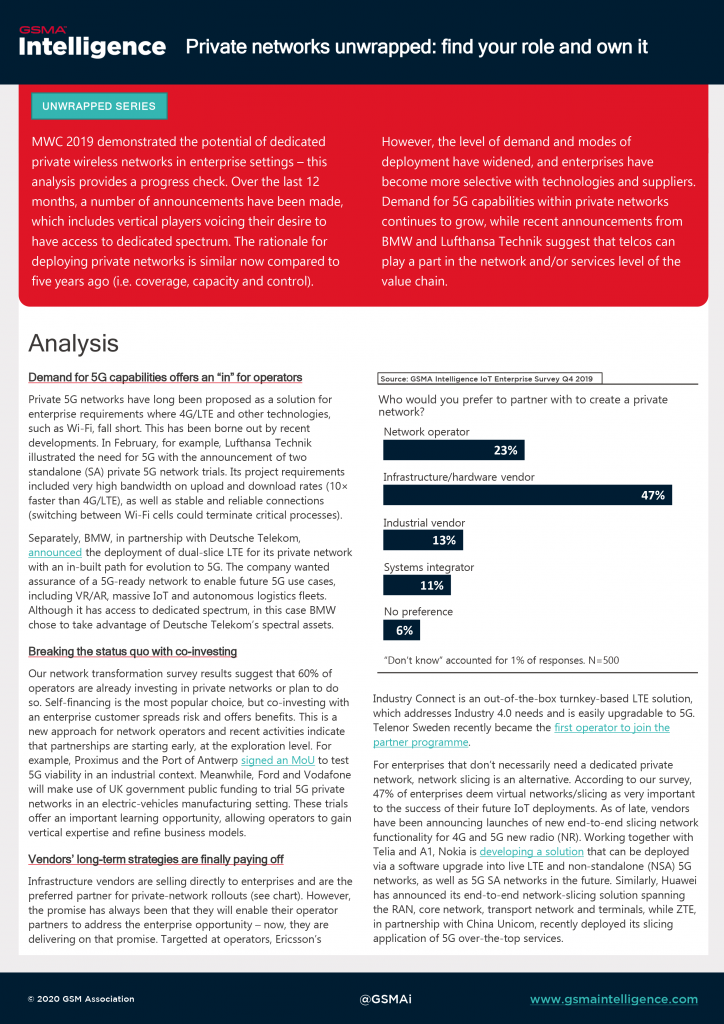 This premium research is exclusively available to full GSMA Intelligence subscribers
MWC 2019 demonstrated the potential of dedicated private wireless networks in enterprise settings – this analysis provides a progress check. Over the last 12 months, a number of announcements have been made, which includes vertical players voicing their desire to have access to dedicated spectrum. The rationale for deploying private networks is similar now compared to five years ago (i.e. coverage, capacity and control). However, the level of demand and modes of deployment have widened, and enterprises have become more selective with technologies and suppliers. Demand for 5G capabilities within private networks continues to grow, while recent announcements from BMW and Lufthansa Technik suggest that telcos can play a part in the network and/or services level of the value chain. Selected high-profile announcements include:
Vodafone partners with Lufthansa and Nokia to develop 5G private network
Deutsche Telekom partners with BMW and Ericsson to develop 5G private network
Nokia launches end-to-end 4G and 5G new radio slicing
Telenor Sweden joins the Ericsson Industry Connect partner programme
Federated Wireless launches Connectivity-as-a-Service
Proximus and Port of Antwerp developing private 5G
Contact the GSMA Intelligence Team to inquire about your subscription options.