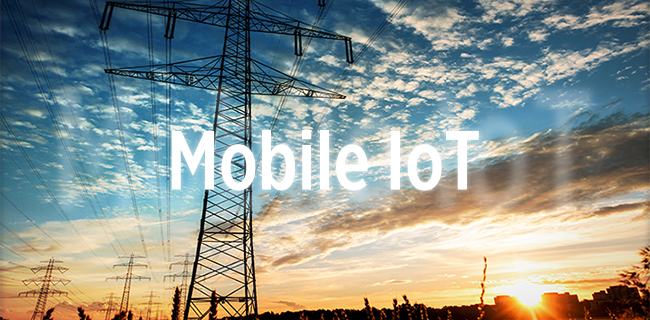 The Mobile IoT Initiative is designed to accelerate the commercial availability of Low Power Wide Area (LPWA) solutions in licensed spectrum.
Why do we need Low Power Wide Area networks?
To support the further growth and development of the Internet of Things (the IoT) the mobile industry is developing and standardising a new class of GSM technologies.  These Low Power Wide Area (LPWA) networks will support devices requiring low mobility, low power consumption, long range, low cost and security.
Low Power Wide Area (LPWA) networks will play an important role in connecting up the billions of new devices making up the IoT. LPWA technologies are expected to serve a diverse range of vertical industries and support a range of applications and deployment scenarios, which existing mobile technologies may not currently be best placed to connect.
Complementary technologies using licensed spectrum
Due to the diversity of IoT application requirements, a single technology is not capable of addressing all of the LPWA use cases. For this reason the mobile industry has focused on three complementary licensed 3GPP standards: Extended Coverage GSM for the Internet of Things (EC-GSM-IoT), Long-Term Evolution for Machines (LTE-M) and Narrow-Band Internet of Things (NB-IoT). LPWA technologies in licensed spectrum can be deployed in a simplified manner, without sacrificing key customer requirements, such as battery lifetime and security.
Why use licenced spectrum solutions?
Mobile operators already provide reliable, secure end-to-end IoT platforms that allow customers to scale and manage their business requirements. They also have unrivalled global network coverage as well as technical and business support to react to a customer's changing needs. Mobile operators will bring this capability and expertise to LPWA technologies.
This means solutions deployed in licenced spectrum will:
support very low in power consumption – a battery life in excess of 10 years for some applications
be optimised for brief messages – about the length of an SMS
have a very low device unit cost – the connectivity module will eventually cost a few dollars
have good coverage outdoors and indoors, enabling connectivity in rural and underground locations
be easy to install on to current networks, reusing existing cellular infrastructure wherever possible
be scalable by being able to support large numbers of devices over a wide geographic area
deliver secure connectivity and support for authentication appropriate to the IoT application
be able to be integrated into a mobile operator's unified IoT platform
Specifications for LPWA solutions were completed June 2016 and included in 3GPP Release 13. Full commercial solutions are expected in late 2016 – early 2017.
Market Opportunity for Low Power Wide Area networks
As LPWA networks are designed for IoT and machine-to-machine (M2M) applications that have low data rates, long battery lives, are low cost, operate in remote and hard to reach locations they will be easy to deploy across a number of different verticals such as utilities, agriculture, manufacturing, wearables and transport.
LPWA is an emerging area of the IoT and represents a huge market opportunity as the IoT scales. Analyst firm Machina Research anticipate there will be 3 billion LPWA connections by 2025.
Analysys Mason forecasts LPWA technologies will generate US$970 million globally in connectivity revenue in 2018, rising to US$7.5 billion in 2022. By that time, Strategy Analytics estimates network operators could be generating more than $13 billion from LPWA connectivity, as well as significant additional revenues from value-added services, such as data analytics and security.
What is the GSMA doing?
The GSMA launched the 'Mobile IoT Initiative' in June 2015 to accelerate the commercial availability of Low Power Wide Area (LPWA) solutions in licensed spectrum. Backed by 60+ of the world's leading mobile operators, OEMs, chipset, module and infrastructure companies, this Initiative facilitates demonstrations, proofs of concept and trials of a 3GPP backed LPWA licensed spectrum technologies or Mobile IoT technologies.
For more information on the Mobile IoT Initiative, please contact  iot@gsma.com
What is Mobile IoT?
Mobile IoT = Trusted IoT
Mobile IoT refers to 3GPP standardised secure operator managed IoT networks. In particular, low power wide area networks designed for IoT applications that are low cost, use low data rates, require long battery lives and often operate in remote and hard to reach locations. Existing cellular networks are evolving to deliver service to billions of new devices providing complete IoT connectivity.
Join the Mobile IoT Innovators
Apply now to become a member of the Mobile IoT Innovators community to keep up to date with the latest information and industry developments for licenced Low Power Wide Area solutions, and to receive invitations to exclusive events.