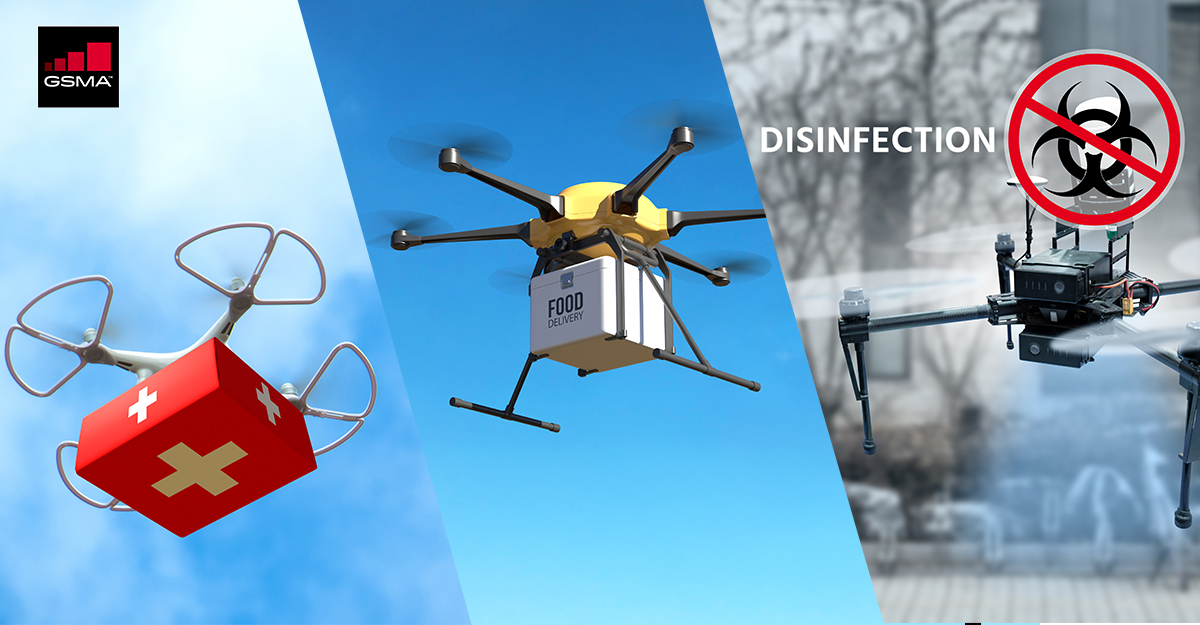 The coronavirus pandemic has forced us all to adapt at speed, and ask some deeply unwelcome questions – among the most difficult of which has been how we can care for one another, and keep the world turning, while avoiding personal contact as much as possible.  In some ways, however, this crisis does offer grounds for optimism: at a harrowing time for humanity at large, we can already see some ingenious answers to these questions emerging, in what have been a cheering testament to the peculiarly human talent for innovation.
In India for instance, one start-up has deployed robots at building entrances and other public places in Kerala to dispense hand sanitiser and public health messages, and to carry supplies between hospital isolation wards to relieve pressure on medical staff.  Kerala's 'Break Corona' start-up incubator received 1,300 ideas and 180 product solutions within two days of launch, and the state now operates an open source public utility platform to help disseminate knowledge between innovators and end users.  Perhaps the greatest versatility in remote pandemic management however comes from the cellular connection of unmanned aerial vehicles (UAVs) or 'drones'. These increasingly useful devices are now being used to deliver test samples and medical supplies, conduct temperature-checks, disinfect public spaces, broadcast safety announcements and more – and they are being put to work against coronavirus across the globe.
Top of the agenda for governments worldwide is now a daunting series of questions – how to determine who has the virus, who has had it previously, and who may have developed resistance through antibodies?  Many believe that only when these can be answered at scale and speed can some semblance of social and economic normality return. To that end, we are looking at many months of testing, transporting samples as safely and efficiently as possible, and relaying results once evaluated while preventing further outbreaks. There are promising signs of progress on this front using connected drones in Ghana: as of a few months ago, California-based start-up Zipline has been delivering COVID-19 test samples in Accra and Kumasi, the country's two largest cities, flying quickly over terrain that would take hours to cross using automobiles.
Zipline expects to operate this service every day throughout the Ghanaian government's crisis response – marking the first time in history that autonomous drones have been used to make regular long-range deliveries into densely populated urban areas.  It'll be far from the last, though – drone company Spartaqs in Poland has since announced that it too has been successfully transporting test samples and supplies across Poland's capital Warsaw. Plans to serve the coronavirus-related needs of the UK's island populations have been brought forward after Transport Secretary Grant Shapps decided there was an "urgent need" for trials to begin sooner than first scheduled.
In the UK, with ferry crossings to the Isle of Wight largely on pause to limit contagion, cellular drones capable of carrying up to 100kg of supplies over distances as far 1,000km will be used to deliver medical equipment from Hampshire in as little at ten minutes – a significant reduction on existing transit times.  Initially, the cargo is likely to consist of personal protective equipment (PPE) for medical staff and key workers but, as the trial progresses successfully, time-critical supplies such as blood and organs for transplant will be transported as well.  With numerous successful trials of this kind completed since the outset of the pandemic, including one under way in Ireland, there are good grounds to be optimistic.
Medical use cases are naturally the priority at present, but by no means the extent of the role UAVs can play in helping us navigate this difficult time.  The UK's drone association ARPAS-UK is now coordinating a National COVID-19 Drone Capability Taskforce to push the capability horizons of the drone industry, and engage with government departments on what more can be done – in part where the emergency services stand to benefit, for sure, but also in more everyday uses which now require unmanned assistance. It's only one of a growing number of locations where connected drones are being considered for wider uses.
Among the most visible changes to how we live has of course been that most basic requirement – to feed ourselves – when many of us cannot safely frequent shops, or even leave our homes, and existing delivery services are at capacity. Connected drones are ideally suited to providing groceries to vulnerable people in quarantine, helping as they do reduce physical human interaction. See for instance the increased use of food deliveries via drones operated by Google outfit Wing, which has now conducted over 100,000 commercial drone flights. There are also ways, in which these devices can help us keep our economies alight while keeping downward pressure on the curve of coronavirus infections.  Consider for instance the varied roles cellular drones can play in tasks like agriculture, asset management, infrastructure inspection, surveillance, flying cell phone towers and connected balloons, data collection and meteorology. As social distancing now looks likely to be with us for some time even once infection rates have come under control, we can expect to see more of UAVs in the near future, as they prove their worth as a means to conduct routine tasks without raising the risk of infection (for example, aerial mapping which allows for the identification of COVID-19 hotspots through drone and satellite maps and enables social distancing measures).
With more governments and regulators now moving to unlock the value of these highly versatile machines – and the mobile and aviation industries already working hard to do their part – there is clear reason for optimism here, as broader use cases help prove capabilities which can then be deployed against COVID-19. Take for instance the partnership between operators such as Rakuten Mobile and AirMap, the world's leading airspace services platform for unmanned aircraft, which is now using connected drones to inspect cell towers, check cabling and antennas, and assess wind impact on cellular infrastructure. Where today operators are generally obliged to send personnel into sometimes risky conditions to complete such tasks, as the successful track record of these drone deployments continues, their value can be put to use in keeping our public spaces sanitary, our vulnerable cared for, and our medical processes completed safely.
A crucial component of this success will be the excellent work being done between mobile network operators and their partners to develop and prove these use cases, which the GSMA is proud to support through a range of resources and engagements to bring together key stakeholders from across relevant industries. Most of the applications of connected drones considered above require operation beyond the pilot's line of sight, which is best served via cellular networks; through initiatives like the Aerial Connectivity Joint Activity (ACJA), which emerged from last year's cooperation agreement between the GSMA and the Global UTM Association (GUTMA), contributors to standards across both industries can support regulatory development with the understanding needed to make that possible at scale. To learn more about how your organisation may be able to take part in ACJA or related activities, please contact us at drones@gsma.com.
See below some examples of the above use cases across various regions and countries:
Use case
Information
Region/Country
DELIVERY OF ESSENTIAL GOODS AND SERVICES LIKE FOOD AND OTHER EMERGENCY SUPPLIES

Food deliveries during lockdown: delivery to most vulnerable or isolated, while maintaining minimal human contact

DELIVERY OF MEDICAL EQUIPMENT

Delivery of Medicine and other vital medical supplies/Tests or PPE. Speeding up deliveries and reducing exposure of medical staff
Delivering medical samples by drone can significantly reduce unnecessary human contact throughout the transport cycle. It can also speed feedback for critical tests needed by patients and medical workers.

DISINFECTION

Aerial spray and desinfection of public spaces using agriculture drones (Drones originally designed to spray pesticides for agricultural applications) to help slow the spread of Covid-19 while reducing human intervention.

DETECTING THE ILL

"Pandemic Drones" to remotely monitor and detect people with infectious respiratory conditions (e.g Temperature scanning)

FLYING CELL PHONE TOWERS

INFORMATION BROADCAST

Mass broadcast of information and procedures (e.g on latest social distancing measures or nearest hospital location details.

INFRATRUCTURE INSPECTION

E.g Ensuring communication networks and energy supply structures (e.g: powerlines, powerplants, antennas) still function during lockdown

LAW ENFORCEMENT/ MONITORING / SURVEILLANCE

To observe lockdown rules (e,g social distancing measures)

(AERIAL) MAPPING

Enabling social distancing for COVID hotspots management through drone and satellite maps

MENTAL HEALTH

WEATHER DATA GATHERING

"With entire airplane fleets currently grounded as global commercial travel comes to a halt, weather measurements which usually rely on data coming from those planes have now been put into jeopardy as meteorologists scramble for other sources of data. Commercial drones here have the potential to provide meteorologists with key data essential for making weather forecasts."
Sources/Credits:
https://www.bbva.com/en/drones-to-stop-the-covid-19-epidemic/
https://www.linkedin.com/pulse/drones-coronavirus-from-crisis-opportunity-millie-radovic/
https://www.commercialdroneprofessional.com/uae-to-emerge-as-world-leader-in-using-drones-predicts-falcon-eye/
https://www.weforum.org/agenda/2020/05/medical-drone-delivery-india-africa-modernize-last-mile/
https://www.forbes.com/sites/petertaylor/2020/04/25/could-pandemic-drones-help-slow-coronavirus-probably-not-but-covid-19-is-a-boom-for-business/#7c1d0e2962a4
https://www.geospatialworld.net/blogs/how-drones-are-being-used-to-combat-covid-19/