GSMA IoT at IEEE World Forum on Internet of Things 2019
The 2019 IEEE 5th World Forum on Internet of Things (WF-IoT 2019) is the premier conference for the IEEE IoT Initiative and consists of the most outstanding participants from the research community, the public sector, and industry. The theme of the Conference is "IoT and the Digital Revolution" in recognition of strides and leadership that the host location of Limerick and Ireland has made in the deployment of "smart" technologies, operating principles, and policies.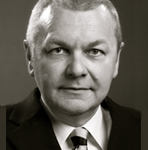 Dr. Shane Rooney, Executive Director – IoT Networks, GSMA has been invited to share his insights about Mobile IoT, IoT Security and IoT use cases in the Topical Area Tracks.
Topic: What the GSMA is Doing on IoT Security? What are the GSMAs Guidelines, Self Assessment Scheme and Privacy Policies?
Topical Area Track 2: Communications, Connectivity and 5G Technologies
Date: Wednesday, 17 April 2019
Time: 11:00-13:00
Room: FG-042
Topic: How are NB-IoT and LTE-M Progressing as a Technology
Topical Area Track 3: Cybersecurity, Data Security, and Privacy
Date: Thursday, 18 April 2019
Time: 11:00-13:00
Room: John Collins
Find out more and register here.