Masterclass: Smarter Cities Powered by Mobile
This event has finished. For the on-demand webinar, please click here.
This webinar offers an expert view into how cities can become more efficient by partnering with mobile network operators.
Some of the key questions which will be explored include:
How can mobile operators help a city meet the needs of its citizens and businesses
How would the Internet of Things help a city to deploy smart city services?
How can cities work within budget constraints to move forward with the latest advancements in mobile technology?
There will be an opportunity for Q&A at the end of the session
Speakers:
Martin Vesely, Senior Vice President of Sales Partnership, Deutsche Telekom
Since joining the Deutsche Telekom Group in 2004, Martin has gained broad experience in the telecommunications covering wireless, land-line and IT/SaaS. He has experience with marketing and sales to all business segment from SoHo/VSE to multinationals & government. As senior Head of Sales Partnership he developed new revenue stream under the M2M solutions and at presence he is responsible for Portfolio & Vendor management in Deutsche Telekom within the Smart City Europe organisation.
Neill Young, Smart Cities Lead, GSMA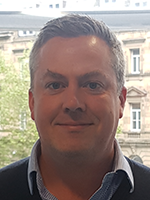 Neill is Smart Cities Lead in the IoT team at the GSMA. He has over 10 years of experience in building M2M and IoT services and ecosystems within both mobile network operators and vertical service providers. Neill has been involved with programmes such as the rollout of smart meters and smart grid, introduction of connectivity for the first connected cars and development of several IoT strategies and standards for the home and city. At the GSMA, he has worked on guides to smart city services including crowd management, street lighting and traffic management, and helped leading mobile operators build their smart city strategies.