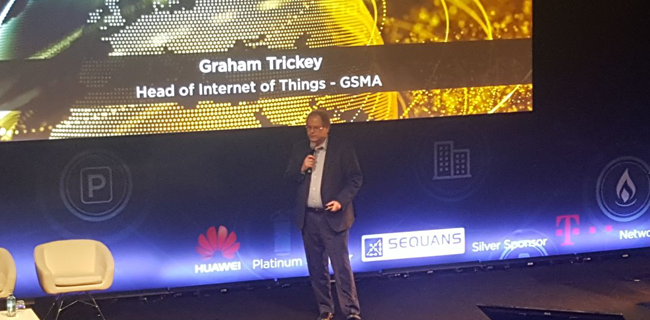 Industry Leaders Reflect on a Bright Future for Mobile IoT as Launches Gather Pace
"Mobile IoT networks are fast becoming the de facto global IoT solution," observed Alex Sinclair, Chief Technology Officer at the GSMA, recently. "Only licensed, managed mobile services can provide the secure low power connection needed to meet future demand." Mr Sinclair is in the process of being proved right, as LTE-M and NB-IoT – the family of technologies making up Mobile IoT – establish themselves as the mode of choice for hundreds of deployments in cellular IoT.
The use cases now in operation are as various as they are numerous.  KDDI for instance launched their KYW01, an ultra-mini LTE-M module, at the end of January.  KDDI are working with TOYOKEIKI on a new platform for smart utilities infrastructure, to brings connected gas meters and intelligent utilities services to millions of consumers in East Asia. The days of inaccurate usage estimates – and time and revenues lost sending staff to rummage around in hard-to-reach locations to take readings – are fast running out worldwide, and this is a welcome contribution to that process.  Deutsche Telekom announced yesterday their launch of 1nce, a dedicated IoT carrier for B2B purposes from intelligent agriculture, to connected parking, to smart security, with many more capabilities in development.  Launches are ongoing, with many more in the pipeline – recent examples have included innovations in connected healthcare, postboxes and even viticulture.  Mobile IoT's possibilities are now so enticing that the GSMA held yesterday what turned out to be perhaps our most popular session in the recent history of Mobile World Congress – the 6th Mobile IoT Summit: Scaling Global Deployment saw key players from across the ecosystem gather for the afternoon to discuss progress and chart the road ahead.
Cheng Zhu, Head of the Cellular IoT Product line at Huawei Technology, opened the session with a few words on NB-IoT's progress. The key to NB-IoT's success, in Huawei's view, can be explained by three key components: it now has full network coverage, which has encouraged the development of mature local ecosystems, which has in turn led to flexible business models whereby operators can progress from simply selling SIMs to providing highly integrated end to end business solutions.  Cooperation between operators and vertical industries can thereby quickly achieve win-win relationships – the results of which are already striking, with prolific rollout already accomplished in use cases as various as utility metering, logistics, bicycle sharing and white goods.  "Increasingly, manufacturers of white goods want to change connectivity from WiFi to NB-IoT," Mr Zhu observed; "Huawei expect around 20 million units to be shipped in 2018."
NB-IoT commercialisation is, according to Mr Zhu, "on the fast track" – Huawei anticipates 100 network launches with 150 million connections by mid-2018, at which point NB-IoT will pass from the 'wide adoption phase' to the 'long-term profitability phase.'  Dr Georges Karam, CEO at Sequans, agreed that progress on coverage has been the essential ingredient in reaching this tipping point, for Mobile IoT as a whole: "LTE-M has been worked on for over a year – the USA is now fully covered, and by the middle of this year we'll have global coverage. And, of course, both technologies can work together. With the advances made in the chip technology for each, you can now get the module for each at as little as five dollars."
The operator panel too was gratifyingly upbeat, but with some hard-headed practical advice for how best to proceed from this point. Lory Thorpe, Head of Innovation and Prototyping at Vodafone, was keen to emphasise that industry collaboration has been key to the progress made in bringing Mobile IoT to the mass market.  "It's been a crucial part of the process, operators moving away from separate positions and working together towards such an important shared goal – IoT is of huge strategic significance to us at Vodafone, and Mobile IoT is a big part of that."  China Mobile's Shen Hong Qun was able to report NB-IoT coverage in a remarkable 346 Chinese cities, making plain that Mobile IoT is well on its way in the world's largest market. There was agreement across the panel that simplification was the goal over the next year. "We cannot sit on this technology," warned Johannes Kaumanns, Vice President for IoT Strategy & Business Development at Deutsche Telekom. He also announced the new SIM plan with 1NCE "10 Euros flat rate for 10 years" which is deployed on Deutsche Telekom NB-IoT network; "we have to think about new processes." AT&T's VP for Product Development Cameron Coursey agreed, predicting that "growth in IoT will accelerate as we simplify offerings, and show the improvements made in security in particular."
Our vendor panel considered the state of play from a technical point of view. As with any new technology, NB-IoT and LTE-M have been undergoing their formative iterations over the past year or so, and we are now at a point where they can be considered future-proof. Marie Hogan, Head of Broadband and IoT at Ericsson, considers this a key cause for the secure position Mobile IoT finds itself in now. "Customers understand that their investments in these technologies are now future-proof", she explained – there is a newfound confidence in the global market.  Simon Glassman, Senior Principal Strategic Partnerships at EMEA, agreed and suggested this is why we are now seeing more small companies and developers becoming involved, encouraged by industry forums like the Open IoT labs and Hackathons.  There is, however, no room for complacence. Ankur Bhan, Global Head of Nokia's Worldwide IoT Network Grid, expressed his hope that the industry will develop deeper networks among the developer community, to help flush out security issues efficiently; Senior Manager for Business and Innovation at Sierra Wireless Nicolas Damour agreed, and reminded delegates that ensuring open source hardware is available will prove essential to germinating new ideas.
New ideas are, in short, what we like to see. We certainly witnessed some excellent new ideas at the Summit yesterday: including a life-saving new smart shoe for workers in perilous environments, a tracking system for everything from medical equipment to livestock, and even a means to render beehives intelligent. If you weren't able to join us yesterday, or would simply like to see more ingenious developments in the pipeline, you can drop in to the Innovation City throughout the Mobile World Congress to see the latest use cases in action. We look forward to an intriguing week, and are confident of just that.
Back