> Mobile Internet Skills Training Toolkit
Introduction to the MISTT
The GSMA Mobile Internet Skills Training Toolkit (MISTT) is a set of free resources to teach people the basic skills they need to access and use mobile internet. It uses a 'train the trainer' approach and consists of short lessons available in PDF and video format that can be easily adapted to local needs and languages.
Drawing on our experience supporting the training of over 50 million people with materials from the Toolkit, we can support your digital skills efforts in a variety of ways, including advice on strategy, best practices for reaching women, monitoring and evaluation analysis support, troubleshooting during a campaign, ToT sessions, promotion of impact, and more.
Get in touch at connectedsociety@GSMA.com.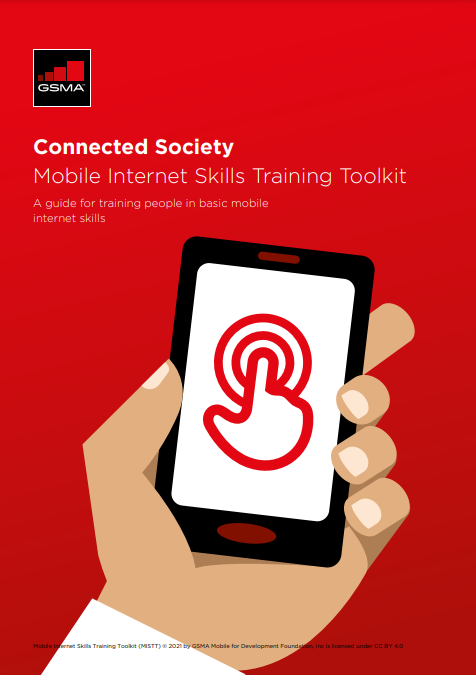 Watch the MISTT webinar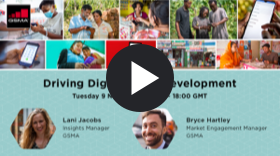 MISTT
Guidance for Trainers
This section provides general resources to guide trainers in delivering sessions. Learn how to design and implement trainings and when to use In-Depth versus Bitesize modules, discover tips and best practices, and download a useful training session checklist.
1
Fundamentals
Introduction to the Internet
This module aims to help users understand the purpose of the training and feel safe, confident and motivated to learn about mobile internet. Trainees will be introduced to basic icons and functions on the smartphone, and will discuss the benefits of the internet and how it can add value to their everyday lives.
2
Fundamentals
Online Safety
This module gives trainees a basic understanding of online safety including dealing with unsolicited contact, avoiding inappropriate content, the importance of online safety for children and how to turn on parental controls, differentiating between reliable and false information, and how to report content on YouTube and Facebook.
3
Fundamentals
Mobile Money
The GSMA's module on mobile money teaches trainees what mobile money is and helps them understand that there are a number of ways it can be used to improve their lives. After taking this module, trainees will know how to register for mobile money, send money to a friend or relative, pay a bill, and understand basic safety implications.
To complement the GSMA's mobile money module, and provide more in-depth training that builds on these foundation skills, we are proud to partner with the Strategic Impact Advisors and share their USAID-funded digital financial literacy series, "Hey Sister! Show Me the Mobile Money!". The series contains 25 episodes, available in 16 languages and, with scripts you can modify, feature engaging conversations among the women (and sometimes the men in their lives). The series is designed to raise awareness and confidence among women, so that they may consider and effectively use digital financial services.
4
Fundamentals
Accessibility Features
Around 15% of people in the world have some form of disability. This module teaches trainees about a set of functions known as accessibility features that can help people with visual or hearing impairments to improve the mobile phone user experience. Particpants will learn about features including changing or correcting colours, magnification, text to speech, sound enhancement, sound amplication, captions and live transcriptions.
Modules
Apps, Websites & Technologies
5
Apps, Websites & Technologies
WhatsApp
This module teaches trainees how to communicate on WhatsApp and helps them understand how WhatsApp can be beneficial to their lives. They will learn how to send text messages, photos and voice messages to individuals and groups, and will also gain an understanding of the safety and cost implications of WhatsApp.
6
Apps, Websites & Technologies
YouTube
This module trains users on how to use YouTube to access videos and music and demonstrates the wide range of content available. Trainees will learn how to search for relevant content by typing in the search box and by using the microphone. They will also gain an understanding of the safety and cost implications of YouTube.
7
Apps, Websites & Technologies
Google
In this module, trainees will learn how to use Google to search for information and will gain an understanding of the wide range of content available to them on the internet. They will also learn how to stay safe when using Google and how much it costs.
8
Apps, Websites & Technologies
Wikipedia
This module teaches participants how to use Wikipedia to access free information and explains that it is created by people all over the world. Trainees will learn how to search for content, how to read content in another language, and how to stay safe when using Wikipedia.
9
Apps, Websites & Technologies
Facebook
This module teaches trainees what Facebook is and how they can use it to connect with friends. During the training, participants will create a Facebook account and will learn how to access it from their phone, add friends, like pages and create posts. The module also covers safety considerations and demonstrates how to stay in control of their privacy.
10
Apps, Websites & Technologies
Android
This module gives trainees a basic understanding of what Android is and how it can help them to access the internet. Participants will learn how to create a Google account and how to use various Google apps including the Google Play Store, Chrome, Google Assistant and Gmail. They will also discover basic tips on how to save money and stay safe on Android.
11
Apps, Websites & Technologies
KaiOS
This module teaches KaiOS users many of the basic operations they can perform on a KaiOS-enabled phone. By the end of the module the trainee will have learned how to connect to Wi-Fi, download apps from the KaiStore, access websites from their browser, and use common apps such as Google Assistant, Google Maps, WhatsApp and KaiNews, all from their KaiOS-enabled phone.
12
Apps, Websites & Technologies
ayoba
This module shows users how they can use ayoba to connect with friends, family and colleagues. Trainees will discover how to send text messages, photos and voice messages to individuals and groups, and how they can access news, music and games by subscribing to ayoba channels.
MODULES
Learning Pathways: India
These training materials focus on how mobile internet can be useful to women and their families in India. Short videos are used to teach different skills. The videos cover: Downloading applications; communicating in different ways using WhatsApp; and finding information on different topics using Google and YouTube. The objectives of these trainings are to build learners' comfort with each of these skills, and to understand how they can apply these skills to their own lives. There are also support materials, including guides and a poster, which can complement the videos in different settings.
The training materials were developed in collaboration with the target audience in India, and mobile network operator partners.
This section is currently in progress and will be completed soon.
Video Pathway 1: Connecting to People (WhatsApp)
Video Pathway 2: Searching for Information (Google and YouTube)
Trainer Guides (coming soon)
MISTT
Download the full toolkit
MISTT deployment and impact
See the impact of the toolkit
The MISTT has been deployed in 27 countries to date with more that 50 million people trained. Click on a highlighted country to find out about the MISTT implementation in that country and its impact.
Key
MISTT implemented with data
MISTT implemented